Welcome Salzburg
Our new studio is ready - It's time to celebrate!
We open the doors to our #epicminutes Studio in Salzburg
WE LOVE STORYS.
We love stories. Stories are the anchor for shared values. Nothing else connects people more than a good story. This is why we create emotional stories.
We love moving images.
No other media draws as much "more" attention to people and brands as moving pictures. This is why we produce great cinema for Internet and TV.
We love social media.
The value of a story increases with its distribution. This is why we utilize viral distribution techniques and specialize in social marketing.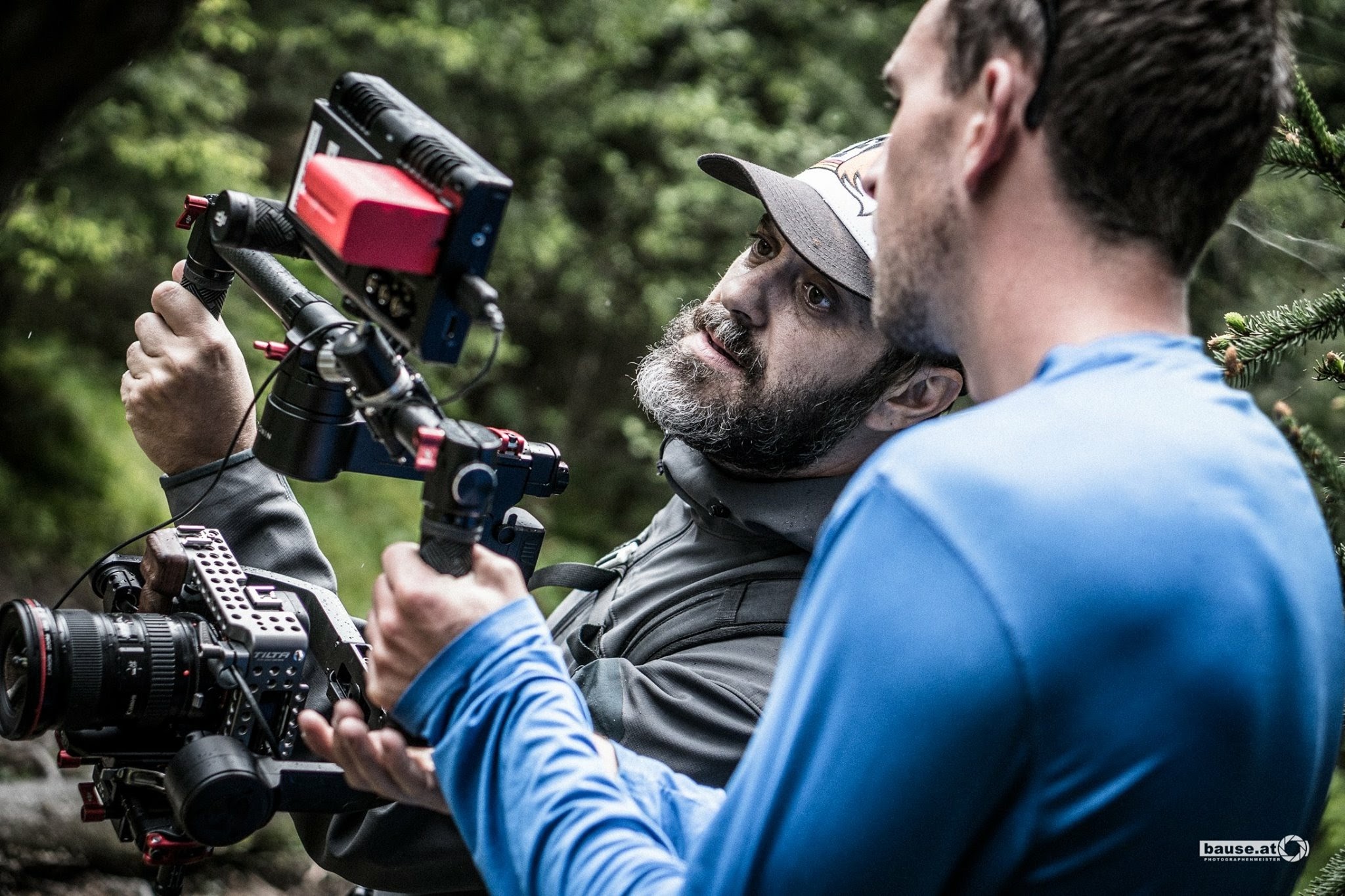 PRODUCTION
If you are capable to do outdoor, you can do anything!
WIR KÖNNEN OUTDOOR.
If you are capable to do outdoor, you can do anything!
Our know-how ranges from short specials and multi-piece web series for different channels to
full-length documentary-style movies.
Our first web-tv project MTB-Freeride.TV has been a jump into the deep end. We've been characterized by this rough outdoor experiences und encouraged our skills.
We keep the focus on the important images no matter how difficult and constantly changing the weather or light conditions are. Our planning is flexible and we can achieve the best results by using the least equipment.
CONCEPT & SCRIPT
A good movie needs an even better idea which is appreciated and distributed by its audience.
Shooting locations

Thanks to our extensive outdoor experience, we're able to showcase products and content in the most extraordinary, remote locations. And you benefit from this experience – not just when we're tracking down great locations and organizing permits to film there, but even when we're shooting on your company's premises.
PRODUCTIONS - PLANING
Even creativity needs to be planned. We take care for any travels and accommodation of your team and customers.
Filming and production management
We adapt our equipment to suit each client's needs. Our production approach is flexible, achieving optimum results with the lowest possible overhead. And as experienced outdoor producers, we never forget logistics, or the importance of multiple data backups in separate locations, or proper catering for the whole team.
POST-PRODUCTION
For effective postproduction workflows, we rely on small, flexible, mobile teams using the fastest, most innovative software. Editing, animation and color grading have a decisive influence on the look and feel of a movie, conveying your intention and corporate identity.
EDITING
For fast, efficient image processing, we use a state-of-the-art 64-bit 4K editing system. By using flexible file resizing methods and Adobe Premiere, we avoid time-consuming conversions between different film formats – guaranteeing the shortest possible time to market. Our "on-demand option" is very different from what you'll find in traditional production companies.
MUSIK PRODUCTION

Great pictures are only half the battle! Great sound is the other half. Every great movie is brought to life by a suitable soundtrack. The mood determines the music – and the music is what creates the emotional connection between the viewer and the pictures on screen. Because we have our own music production studio, we deliver the right sound design for every movie, in the form of individual compositions. By creating our own compositions licensed for international use, we avoid high third-party licensing fees. We also avoid those embarrassing moments when web videos are blocked because of copyright restrictions. And as our client, you get your own exclusive sound library, complete with your own corporate sound – including all intellectual property rights.
MOTION DESIGN - ANIMATION
To illustrate hard-to-explain content, entertain viewers or showcase corporate identities, 3D and motion graphics don't just help people understand what they're watching – they also add a whole new dimension to company logos.
COLOR GRADING
For giving your production a consistent look and feel, good color grading is indispensable. By using programmed color grading in our cameras and in post-processing, we ensure that all the different types of cameras we use – from GoPros to 4K Red Epics – are working to the same color values.
CHANNEL & SOCIAL MARKETING
Based on years of experience and detailed analyses, we're exceptionally good at assessing your target audience. We also have the knowledge required to set you up on all kinds of social media channels, from YouTube to Facebook, Pinterest to Instagram – and the rest.
When we create a movie, we don't just treat it as an image video, event trailer or press footage – we create something with broad, powerful appeal. Then we develop film formats that target specific audiences, interpreting and optimizing your messages for each media channel. What we call editorial content with added value – authentically staged. Stories about brand ambassadors – about individuals and their personal, emotional relationships with your brand – that grab viewers' attention, so they end up sharing and talking about your movie.
One story, multiple channels
How can you tell a story effectively on each and every channel?
The challenge is to adapt your story for each separate channel, finding the format for each channel that's most likely to attract and intrigue your target audience and spread your message as quickly and effectively as possible.
To successfully do this for your brand, we need a strong core concept. We then analyze which channels we should use to reach your preferred target audience – segment by segment. Once we've established these reference points, we start turning the core concept into stories. This way, we can tell different variations of your story on different social media channels, from YouTube to Facebook, Pinterest to Instagram – plus any number of others – so we can really catch the interest of the target audience we've defined for each channel.
KUNDEN
Wir sind an unseren Aufgaben gewachsen. Durch unseren ersten Channel MTB-Freeride.TV haben wir gelernt, dass eine gute Geschichte nicht nur erzählt, sondern auch verbreitet werden muss. Unsere Erfahrung mit 200.000 Channel-Abonnenten, der Einbindung in die Promotion von Apple itunes und Platz 1 unter allen Online TV Mountainbikekanälen sprechen für sich und zeigen, dass wir eine Menge richtig gemacht haben.
Dafür sind uns u.a. die folgenden Kunden dankbar: